Here are just some 367 names of the 799 homeless deaths in last eighteen months.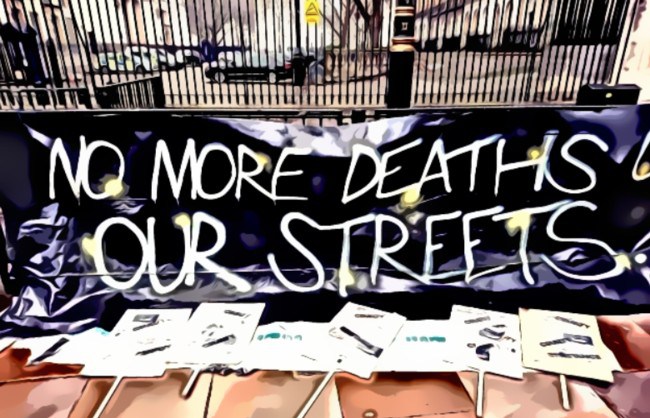 The Bureau of Investigative Journalists logged 799 people who died homeless across the UK in the last 18 months.
We have 367 where we can name them.
61 where we agreed to anonymise
And 327 where we don't know the name.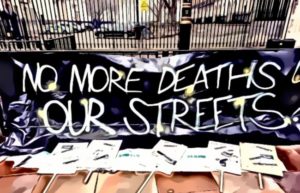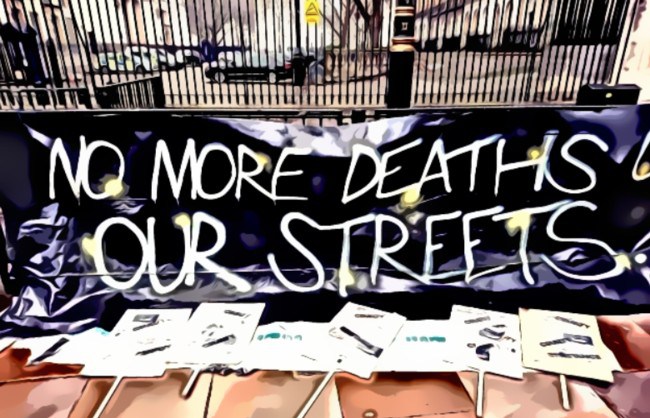 There have been many more deaths that simply may have passed by unnoticed…
Enough is enough: #NoMoreDeathsOnOurStreets Vigils 15th March at 6pm
London: https://www.facebook.com/events/872876323051830/
Manchester: https://www.facebook.com/events/368132523780702/ 
"Geordie" M
"Honda" 38 M
"Irish Keith" 40s M
"Scotch" Allan Alexander
M
Aaron French-Willcox 19 M
Aaron Kenny Andrews 28 M
Adam Langwell 25 M
Adam Zajac 41 M
Adrian Hicks 50 M
Aimee Teese 30 F
Alain Ettiern Simmonds 48 M
Alan Cambell M
Alan Chiu 68 M
Alan Higginson 81 M
Alan/Lee Jordan/Higgins 47 M
Aleksandra Binkowska 54 F
Alex Smith 37 M
Aligmantes Striukas
M
Alwin Benain 41 M
Andre Meehan M
Andrew Burnett 27 M
Andrew Davie 39 M
Andrew O'Connell 54 M
Andrew Petty M
Andrew Te Hira M
Andrzej Skwarlo 51 M
Anna Raynes 28 F
Anthony ('Tony the Hat') Hoy
M
Anthony Barnard 57 M
Anthony Richardson 45 M
Anthony Sprenger
M
Archie 52 M
Arna Bud-Husain 49 M
Aron Gibson 37 M
Arthur Kendrick 62 M
Artur Horoszko 40 M
Arunesh Thangarajah 26 M
Balbaar Singh 42 M
Barbara Smith 71 F
Barry James Bamber 48 M
Belinda Cameron 44 F
Ben 53 M
Benedict Jackson
M
Betty Brown M
Brian Carter 53 M
Brodie Rippingale 31 M
Buta Singh 37 M
Campbell McLoud 54 M
Carl Elliott 85 M
Carl Lancelot 42 M
Carlos Quintal M
Catherine Colebourne 38 F
Catrina 29 F
CB 36 M
Cecilia Carmichael 67 F
Charles Parsons M
Chris Conlin 31 M
Chris McGregor 46 M
Chris Moyes M
Christer Vincent M
Christopher 60s M
Christopher Cochrane
M
Christopher Matthews 41 M
Colin Ellis 60s M
Cosmin Petrescu
M
Craig Cunningham
40s M
Craig Hornby 48 M
Czeslaw Mazak 36 M
Dan Greenwood 30s M
Daniel Hutton 26 M
Daniel Nicholson 27 M
Daniel Peter Clements 34 M
Daniel Whyte 45 M
Darius Kojak 20s M
Darren Greenfield 48 M
Darren James 45 M
Darren James M
Darren Ledger 50 M
Darren Marshall 52 M
Darren Walton 41 M
David Bayley M
David Cooper 35 M
David Fuller 41 M
David Hart 50 M
David Holland 64 M
David Massey 49 M
David Massey 49 M
David Oxton 44 M
Dawn/Patricia Smith/Gill 33 F
Dean Gundry 29 M
Dene Nuttall 51 M
Dennis Austin M
Dermot Fagan 70 M
Dermot Mulligan 56 M
Detlef Schadowski 68 M
Dimitri Sabev 58 M
Donato Barbieri 72 M
Donn Joseph Morgan 37 M
Donna Marshall 62 F
Douglas Couldon
M
Edward Hinds 22 M
Eleanor Boulton 73 F
Elliot 50-70 M
Emma Winterton 28 F
EP M
Eugene McMeel M
Fabian Bayet 48 M
Faiza Asif 26 F
Fiona McCarthy 36 F
Fiona Watson 56 F
Frank Gregson M
Frank/Francis Neilson 57 M
Frederick Bennett 58 M
Gabriel Spasenschi 49 M
Gareth Meadows 48 M
Gareth Turp 30s M
Gari Farrell 23 M
Gary James M
Gary McCoy M
Gary Young M
George Adam Dyson 21 M
Gerard Gallagher
M
Gordon M
Graham Green 59 M
Gyula Remes 43 M
Hamid Farahi 55 M
Heather Chapman 52 F
Henrik Conrad Bartlomiej
M
Henryk Smolarz 62 M
Ian Joseph M
Ian Kirk M
Ian Kirkland 40 M
Igor 40 M
Istvan Kakas 52 M
Jack Thomsen 39 M
Jacqueline Hamilton 53 F
Jake Humm 22 M
James Abbott 51 M
James Black M
James Bowles 30 M
James Crawford 53 M
James Lee 39 M
James Matcham M
James Moore 44 M
Jan Szabla 53 M
Jaroslav / Jay Kungurtsev / Kingerstev 34 M
Jaroslaw Andrzej 63 M
Jasandeep Singh 40 M
Jason Black 47 M
Jason Cox 45 M
Jason Morgan M
Jason Pottie M
Jason Wager 52 M
Jay Hopper M
Jayjay M
Jayne Simpson 53 F
Jayson/Jason/Danny/Daniel Thompson 46 M
Jean Louis Du Plessis 41 M
Jeffrey John Hepburn 54 M
Jennifer Innocenti 35 F
Jerica 38 F
Jim Hennigan M
Jimmy Henderson 53 M
Joanne Jones 44 F
Joby Sparrey 40s M
John Barnes 49 M
John Bishop 59 M
John Cunningham 64 M
John Davies 42 M
John Gillespie 62 M
John Holland 30s M
John Lowton 50 M
John Mongan 48 M
John Smith 35 M
John Smith 30 M
Jonathan Fellows 46 M
Juan/Joao Manuel Ferreira Marcelino 50 M
Julian Glover M
Julie F
Kane Walker 31 M
Kawal Singh 61 M
Kayla Terry 31 F
Kenneth Howson 65 M
Kenny M
Kevin David M
Kevin Fillsell 66 M
Kevin Headley M
Kevin Kerr 47 M
Kevin Moore 51 M
Kevin O'Hanlon 54 M
Kevin Tridgell 38 M
Konrad Bratek 32 M
Kristian Olsteins 22 M
Kumarasamy Vasanthakumar
M
Laura Cairns F
Lech Zygmunt Toda 56 M
Lee Bassey 45 M
Lee Commins M
Lee Jenkinson M
Lenny M
Lesley Roberts 56 F
Leslie Beard 66 M
Leslie Smith 45 M
Levi Smith 49 M
Linda Grimes 50 F
Lindy Louise Pring 32 F
Louise Beddingfield
F
Luke Brown M
Luke Urmston M
Madhi El-Zubier M
Malik Khan M
Marcos Amaral Gourgel 35 M
Marcus Adams 48 M
Marek Drywa 59 M
Marian Jan Bulanda 66 F
Mariusz Napiorkowski 49 M
Mariusz Usik M
Mark Barwise 55 M
Mark Leighton 57 M
Mark Long 45 M
Mark Samspon 55 M
Mark Wickens 51 M
Martin M
Martin Dines 56 M
Martin Ripley 50 M
Mary Lane 53 F
Mary Mccarthy 43 F
Matthew Laurie 48 M
Matthew Small 40 M
Matthew Thomas 39 M
Melvyn Park 44 M
Michael Cash 32 M
Michael Clark 45 M
Michael Corboy 50 M
Michael Hill M
Michael Reid 56 M
Michael Rouse 40s M
Michael Straw 56 M
Mikey Nicell 45 M
Miroslaw Strulak 48 M
Natalie-Ann Shutt 32 F
Neculai Popa 33 M
Neil Gibson 48 M
Neil Martin 49 M
Nick 53 M
Nick Pullinger M
Nick Pullinger M
Nigel Ogeah M
Nigel Walley 50 M
Noah Jones 48 M
Oliver John 57 M
Otis Galloway 50 M
Parmajit Singh 37 M
Pascal Melly M
Patrick Howell M
Patrick Ward 50s M
Paul Andrews 57 M
Paul Bradley 52 M
Paul Cooper/Holford 37 M
Paul Hancey 52 M
Paul John Devine 61 M
Paul Larner 50 M
Paul Phillips 48 M
Paul Williams 38 M
Paulo Lopes M
Pawel Szymczyk 42 M
Pepe 33 M
Peter Alan Smith M
Peter Coker 59 M
Peter Harrison 57 M
Peter Mbugua Thuo (Mohammed Hassan) 42 M
Peter Yeboah M
Philip Luce 69 M
Phillip Hancok 35 M
Piotr Krowka M
Preston/Christian Brown 41 M
Przemyslaw Mierzynski 45 M
Rafal Jarzabek 40 M
Rafal Slowek M
Raghbir Singh 45 M
Raja Sekar M
Rallf Galenieks 34 M
Ray Vallery/Vallely 47 M
Raymond Clark 57 M
Raymond O'Donoghue
M
Raymond Ward 51 M
Remigijus Balsevicius 51 M
Remigiusz Boczarski 40 M
Richard Barlow 59 M
Richard Racketts 53 M
Richard Robinson 49 M
Richard Tricky M
Ricky Jones 46 M
Rinku Singh 37 M
Rob O'Connor M
Robert Bartlett 30 M
Robert Robertson 57 M
Robert Smith 67 M
Robert Wallis 41 M
Rodney Wood 46 M
Roger Martinssen
M
Ronald Jones 60 M
Roxanne Forward 25 F
Russell Lane 47 M
Ryan Thomas McGurgan 33 M
Ryszard Najdek 60 M
Salah Abdelhalim 49 M
Salim/Saleem Khan 51 M
Sanjeev Kumar 37 M
Saquib Sajjad 37 M
Saulius Kantakevicius 47 M
SC M
Sebastien Bielinski
M
Sharron Maasz 44 F
Shaun McClenaghan 37 M
Shelly Pollard 42 F
Simon Day 44 M
Simon Edwin John Holmes 61 M
Simon Lacey 40s M
Sodhi Singh 50 M
Spencer Clements 47 M
Stella Jimmie 49 F
Stephanie Fraser 25 F
Stephen Donoghue 40 M
Stephen Kinghorn 39 M
Stephen Lee M
Stephen Menzies 44 M
Stephen Menzies
M
Stephen Mitchel M
Steve M
Steve Drummond
M
Steve McGregor M
Steve McGregor M
Steve/Istvan Hetenyi 66 M
Steven John Beattie 47 M
Stuart White 45 M
Stuart/Scott Bainbridge 44 M
Susan Dool 42 F
Tanya Bishop F
Terry 42 M
Terry Taylor 53 M
Thomas Linnane M
Thomas Pulham 28 M
Thomas Ward 38 M
Tibby 50 M
Tomasz Suliga 42 M
Tony Lawless 51 M
Tony Lucas 52 M
Tracy Patsalides F
Tracy Patsalides 40 F
Vadims Saltis 23 M
Valerie Collins F
Vidmantas Kasperavicius 55 M
Vincent Gorman M
Wesley Gurney 41 M
Wieslaw Pawelek 58 M
William Church-Barton 39 M
William Follett 33 M
William Kennedy 54 M
William Morely M
William Morrow 45 M
William Richardson 52 M
William Stryker M
Wladyshalw Sawicki
M
Yadwinder Soni Singh
M
Zion Peters 23 M
Zydrunas Kaseta 39 M