Grassroots groups warn of coming 'humanitarian disaster' on World Homeless Day.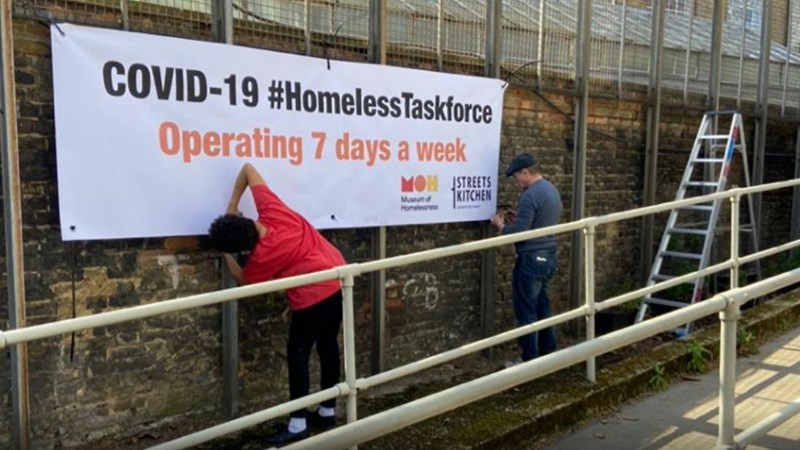 This World Homeless Day – 10.10.20 – the UK's only grassroots COVID-19 homeless task force is calling for the government not to abandon people who are sleeping rough as the winter fast approaches. The taskforce includes Streets Kitchen, Museum of Homelessness, and The Outside Project who all carry out frontline work with people who are homeless in London.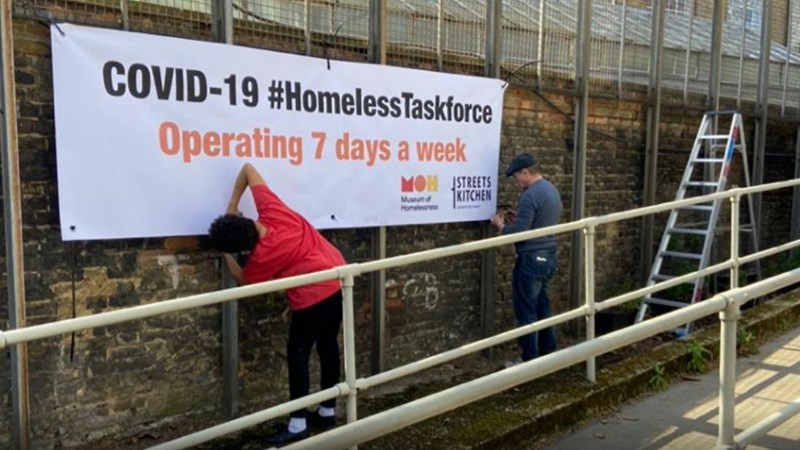 The taskforce will be handing out hundreds of sleeping bags on World Homeless Day in a bid to offer some basic support to those who are left on the streets as winter is approaching. They are also calling for donations of new socks, new sleeping bags, and new tents from the public. These will be stockpiled for distribution through the winter.
A stark winter
Despite the fact Christmas is around the corner, the government has not issued any guidance to shelters and hostels on how to operate this winter with regards to coronavirus and has not provided any further funding to support the large numbers of newly homeless people. Evictions have now started again and many shelters are unable to operate due to public health measures, so people who rely on these shelters each year will be left out in the cold along with the thousands of people who are hitting the streets for the first time.
A recent report by the Lancet has stated that avoidance of death amongst people who are street homeless depends on the prevention of transmission in settings like hostels and night shelters.
Despite this, the Government's 'Everyone In' scheme has largely been quietly wound up, meaning that people have been left to return to the streets, leaving them vulnerable & exposed with nowhere to self-isolate if they do contract Covid 19. These supplies could therefore literally save someone's life as the cold sets in
Jessica Turtle, co-founder of the Museum of Homelessness has said: "Winter is fast approaching and we are seeing more and more people on the streets. Combine these factors with the second and third waves of COVID and we are deeply worried about a potential humanitarian crisis. We are once again focusing our energies on saving lives and providing the essentials to people who are living outside. The government seems to think that the Everyone In scheme has solved homelessness when this couldn't be further from the truth. Our museum records every homeless death in the UK but right now we are focused on saving lives"
Carla Ecola, director of the Outside Project said: "The COVID19 hotels gave an emergency solution to re-housing people who are homeless from the often overcrowded, unsafe, and unsanitary buildings they were being sheltered in. It was unacceptable that homeless people were still sleeping on hall floors in 2019. If 2020 has proven anything it is that people who are hard to reach and hidden homeless do step forward if given the opportunity of safer and more dignified housing."
Jon Glackin, Streets Kitchen co-ordinator said: "We are staring down the barrel of possibly the worst winter we have ever seen for those experiencing homelessness. Day centres, where people could warm up in the day, are still shut. Shelters are not opening. We are calling for empty buildings to be opened, but at this point, we are moving into survival mode and gathering what we can to provide some small comfort to our friends on the street."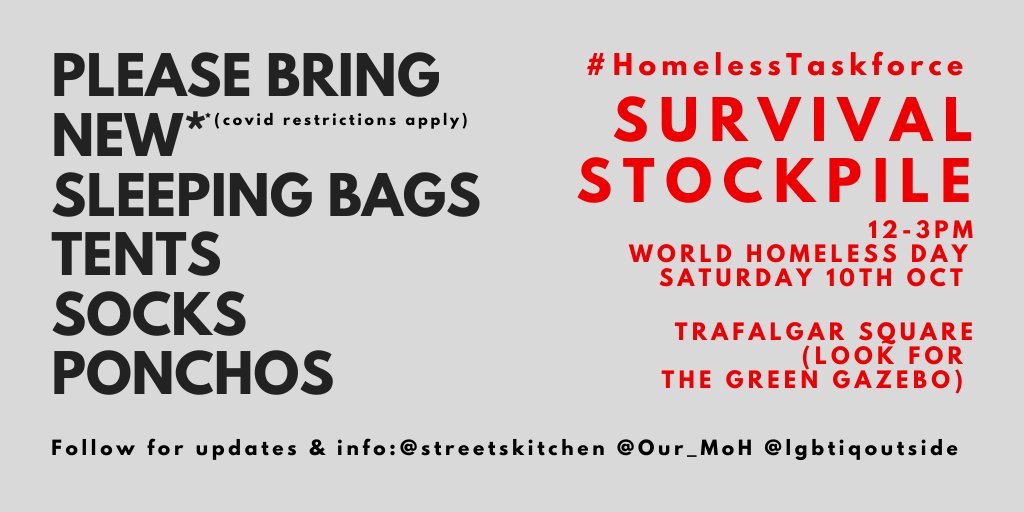 Notes to editors
About the COVID-19 Homeless Taskforce
The COVID-19 homeless taskforce are a group of small, independent, award-winning community organisations and charities working directly with people affected by homelessness. Collectively, the groups operate across London and have been working together for a number of years, and have been supporting each other since the outbreak of COVID-19. This group includes Streets Kitchen, The Outside Project, and Museum of Homelessness.
All people quoted here are available for interview. Please contact imogen@museumofhomelessness.org