Press Release: Sofia Solidarity Centre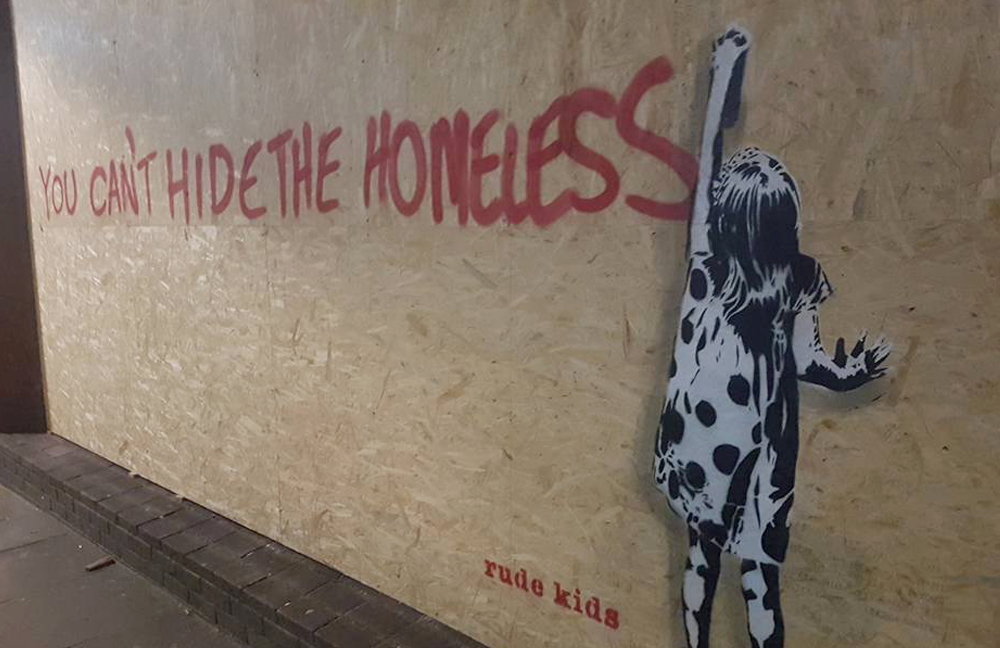 FOR IMMEDIATE RELEASE
OVER 100 OF LONDON'S ROUGH SLEEPERS FACING EVICTION FROM SOFIA SOLIDARITY CENTRE 
We, the residents of the self-organised Sofia Solidarity Centre at 204 Great Portland Street, have received a notice of eviction. The case will be heard at Central London County Court, The Strand, on Wednesday 14th March, at 2pm.
We occupied this building solely to keep Londoners from freezing to death on our streets. If officially recognised, we would currently be the largest homeless shelter in London, offering shelter to over 100 vulnerable individuals every night. We are open 24/7 and unconditionally to all-comers.
This building stood empty and derelict for five years, until we transformed it within a week. Its Jersey-registered owners pay a mere £40 a month in rent as they sit and watch it grow in value. Now they are taking us to court to have our homeless residents thrown into the freezing London streets.
WE DEMAND:
To be allowed to remain in this building until the development/demolition begins, and the multi-million-pound penthouses upstairs are also vacated
That empty commercial buildings are opened to house London's additional homeless, immediately and unconditionally
Immediate provision of free-at-the-point-of-use social housing
HOW YOU CAN HELP:
Raise your voice online: Tweet Sadiq Khan with the message below, and contact other relevant politicians, activists and media
Raise your voice in the streets: join us at the court at 2.00pm on Wednesday 14 March at Central London County Court, The Strand
Come down to the Centre at 204 Great Portland Street with sleeping bags, tents and winter packs/rucksacks so we're prepared if we are forced to leave
Find out what grassroots campaigns to support the homeless are happening in your area and get involved
Offer specialised counselling, housing or social work support to people currently residing in the centre. We are keen to work with groups like Greenlight, Stonewall Housing, North East London Migrant Action and Groundswell to ensure all our residents are offered the best chances possible moving forward
CLICK BELOW TO TWEET SADIQ KAHN
Hi @SadiqKhan, you've said tackling homelessness is your top priority. More than 100 vulnerable rough sleepers stand to be evicted from the Sofia Solidarity Centre at 204 Great Portland St this week. Please RT http://bit.ly/2FwJ2qH #solidaritynotcharity via @streetskitchen
WHAT IS THE SOFIA SOLIDARITY CENTRE?
We are open 24/7 and unconditionally to all-comers, including many who could never set foot inside the sometimes hostile, always overstretched, and desperately underfunded hostel system.
We provide over 100 of London's most vulnerable rough sleepers with beds, hot food and drinks, toiletries and an environment where they can sleep well and recover from stress, sleep deprivation and in some cases hypothermia.
If we were a registered charity, we would be raking in upwards of £8,000 PER NIGHT, from the government.
As it is we've received no funding from the public, or the government, during our time here, and everything has been purchased/donated by the public/gifted by a small number of retailers. Residents contribute their time, skills and energy free of charge.
We don't think homelessness should be monetised, we think it is a societal issue that should be prevented through adequate governmental policy and sufficient building of social housing.
There are a variety of reasons for their homelessness; mental health (PTSD, psychosis), drug addiction, alcohol dependency, family breakdown, redundancy, childhood abuse, high house prices/rent, lack of probation support, diminished numbers of social/council housing etc.
We feel the leading causes of homelessness are;
A failure to address mental health issues (vastly intensified by recent cuts to mental health funding, and the number of beds)
Lack of availability of talking therapy
Low job security
Benefit cuts
Sanctions
Work capability assessments
Roll out of Universal Credit
Delays and rent payments direct to landlords
Reduction of benefits support to under-25s
Changes from DLA & ESA to PIP (where most people who have been living with disabilities are finding that the money that has been allocated in order for them to live fully functional lives has been drastically reduced, leaving them prisoners in their own home, or facing homelessness).
Council gatekeeping scaring people away from making homeless applications
The 'single service offer' model by homelessness charities
Many people we host just want to feel part of society; social housing is a priority. For those that don't feel comfortable with a roof over their heads, there should be some form of day centre, to keep them occupied during the day.
We feel that there is a desperate need for social housing, facilitating access to; medical and mental health care, alcohol and drug dependency treatment, integration with the local community, shared facilities (to encourage residents to interact with each other), and shared responsibilities.
We believe in solidarity not charity, and in empowering people to organise themselves to find solutions to this brutal crisis. Enough is enough – don't let what we've built here be thrown away due to property developers' greed.
END
NOTES TO EDITORS