Gaza has been illegally occupied by Israel since 1967. They have responsibilities as occupying power but have instead created an air, land and sea blockade of Gaza since 2007. It has become a system of apartheid.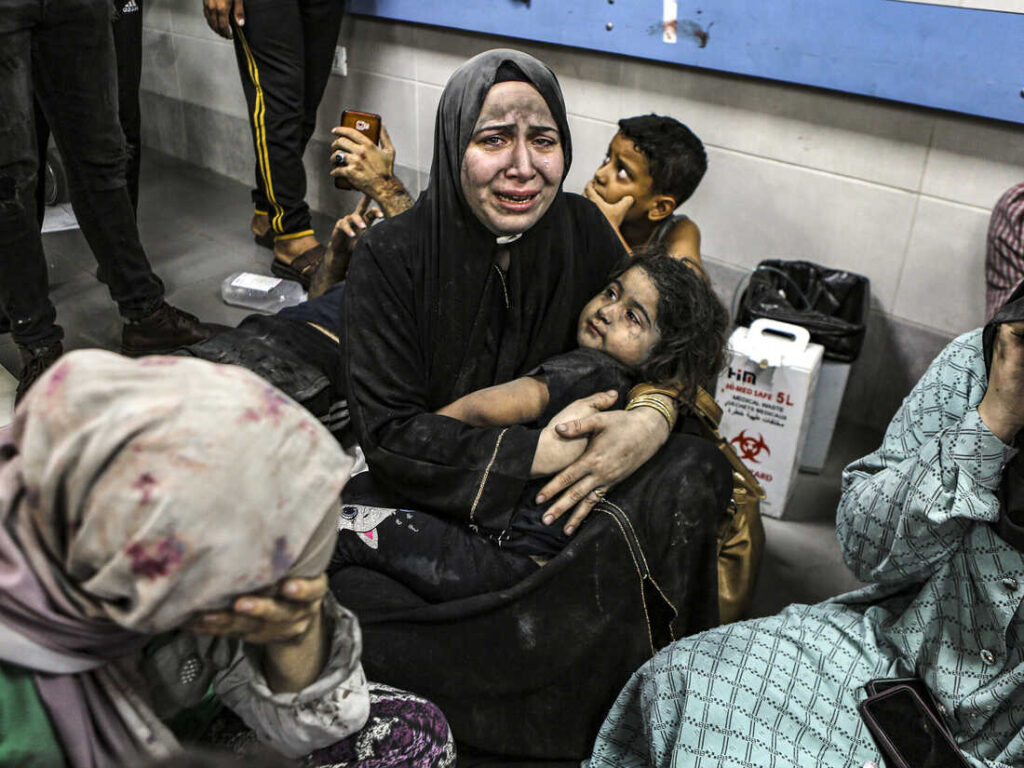 Now, over a million Palestinians have been forcibly displaced from north Gaza with 24-hours notice. Gaza has a population of 2.3 million on land the size of the Isle of Wight. Due to its geographic position, it is incredibly difficult for occupants in the north to leave, meaning many civilians, families and children, are essentially trapped, whilst their land and lives are being destroyed due to the massive bombardment: 6000 bombs in 6 days.
To add to this horror, the food, water, electricity and gas supplies have been cut off from the people residing in the north of Gaza. The health system is on the verge of collapse, as the death toll of children rises to over 1000 (16/10/23), 150,000 pregnant women need care and infectious diseases loom due to the sanitation crisis. Gazans are being stripped of basic essentials for survival, whilst further impeding their ability to leave; considered a "collective punishment" on innocent lives.
The Universal Declaration of Human Rights, adopted by the UN General Assembly in 1948, (article 25) first laid down the right to food in international law, as part of the right to an adequate standard of living.
The United Nations Convention on the Rights of the Child (article 27) says that children and young people should be able to live in a way that helps them reach their full potential (physical, mental, moral and social) and for this to happen, they should have access to adequate food and housing. The International Covenant on Economic, Social and Cultural Rights (article 11) stipulates that state parties recognise the "right of everyone to an adequate standard of living for himself and his family, including adequate food, clothing, housing, and to the continuous improvement of living conditions.
State Parties will take appropriate steps to ensure the realisation of this right." Article 11 also outlines that States Parties recognise the "fundamental right of everyone to be free from hunger" and States shall take measures to improve methods of food production, conservation and distribution.
Armed conflict and war impact all aspects of human nutrition, from consumption to procurement and agriculture, resulting in malnutrition, disease and death.
Under the Rome Statute of the International Criminal Court (ICC),"[i]ntentionally using starvation of civilians as a method of warfare by depriving them of objects indispensable to their survival including wilfully impeding relief supplies as provided for under the Geneva Conventions", is a war crime when committed in international armed conflict (Rome Statute of the International Criminal Court, 1998,)
Even though the provision does not state food, food is clearly among that which is indispensable for human survival. Thus, cutting off food is a war crime under customary international law.
The dignified access and cultivation of food has been weaponized in armed conflict and war throughout history, for example, the Bengal famine of 1943. It is perhaps one of the most, for use of a better word, effective ways to strip, break down, and dehumanize a society by forcibly taking away a basic and fundamental right to survival (the right to food).
We stand in solidarity with the millions of innocent civilians who are suffering this "collective punishment" and we call for the Declaration of Human Rights to be rightfully enforced.